Some people find the winter months to be troublesome, holding them back from their love of the outdoors. Don't be fooled. Winter is beckoning you to explore more than just resort skiing and find places few people venture to outside the warmer months. Don't let low temps get you down, now is the time to get outdoors!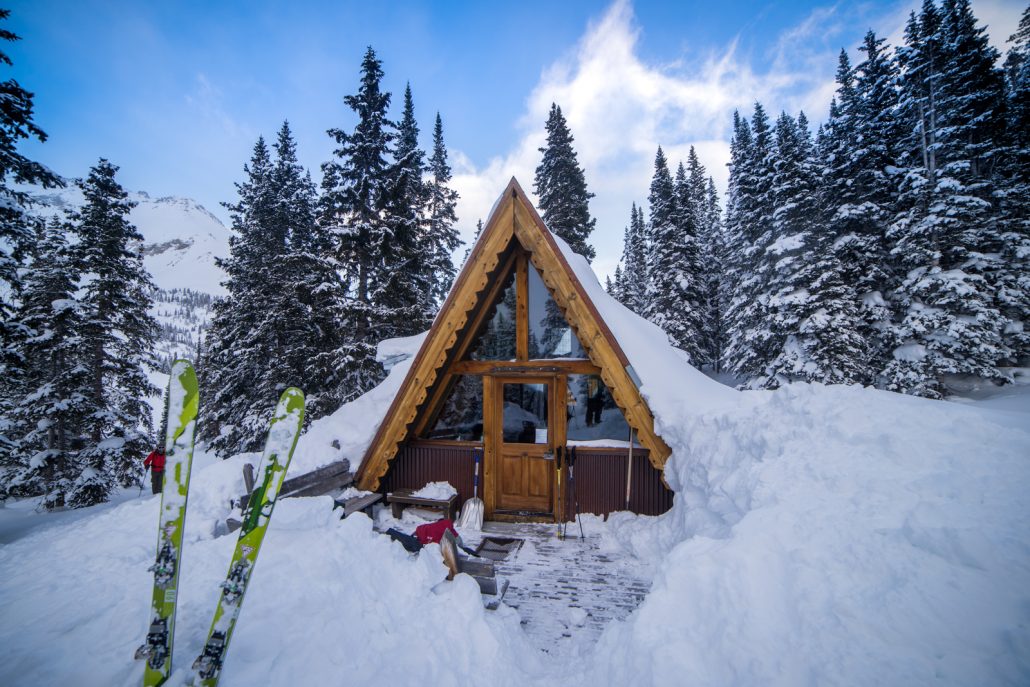 We've just spent the past 48 hours backcountry skinning to a majestic A-frame hut tucked in the wilderness of the White River National Forest. Not a fan of shivering through sub zero nights in a tent? Hut trips should be your new go-to. They are fully stocked with hostel style beds, a kitchen complete with a gas stove and cooking equipment, wood burning stove, firewood, water (melted snow) and an outhouse. We'd call it "glamping" but the 5.5 mile skinning in fresh powder to get to the hut says otherwise.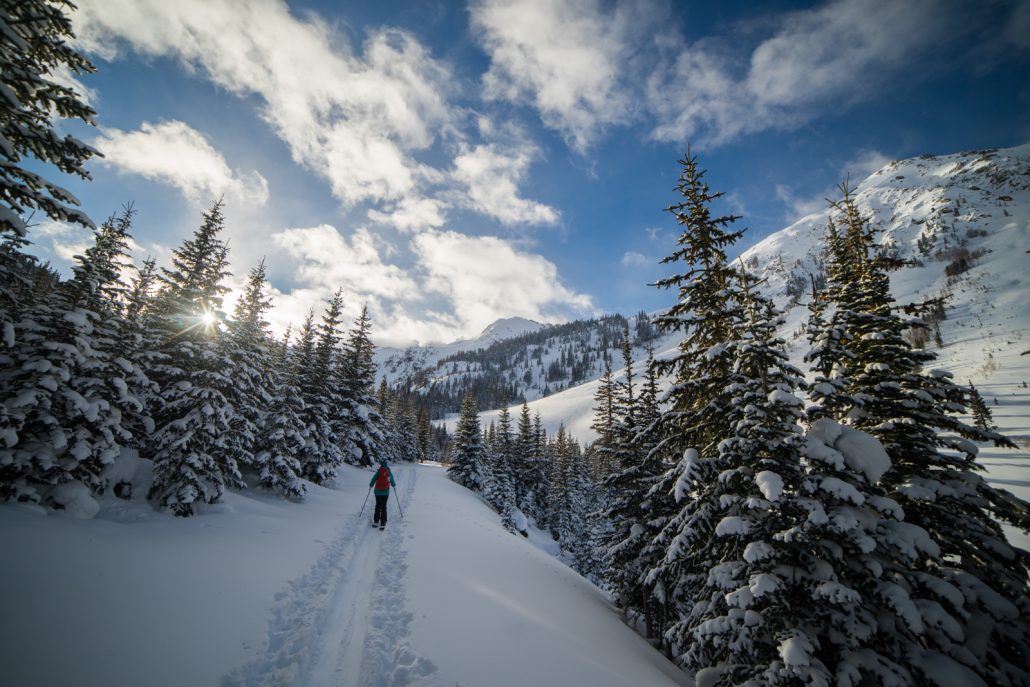 Skinning is crucial for winter hikes and more efficient for this hike than snow shoes because you can ski or snowboard back down the mountain. You can also enjoy fresh turns in the backcountry once you reach your destination. The term "skinning" refers to the fur-like material you attach to the bottom of your skis or split board. This material allows you to slide forward when hiking but offers resistance so your skis do not slide backwards. We opted for renting splitboards as we are more experienced in snowboarding.
Location:
Tagert Hut, part of the Braun Hut System in the Elk Mountains of Colorado. You can look at the full listings of huts at www.huts.org.
Parking:
Overnight parking is located at the Ashcroft trailhead on Castle Creek Road.
Equipment Needed:
Splitboards or Backcountry Skis
Skins
Poles
Avalanche safety gear – beacons, shovel, probes
Warm Layers
Backpack
Sunglasses
Sun Screen
Food
Permits:
Permits are required to reserve the huts, you can do this at www.huts.org.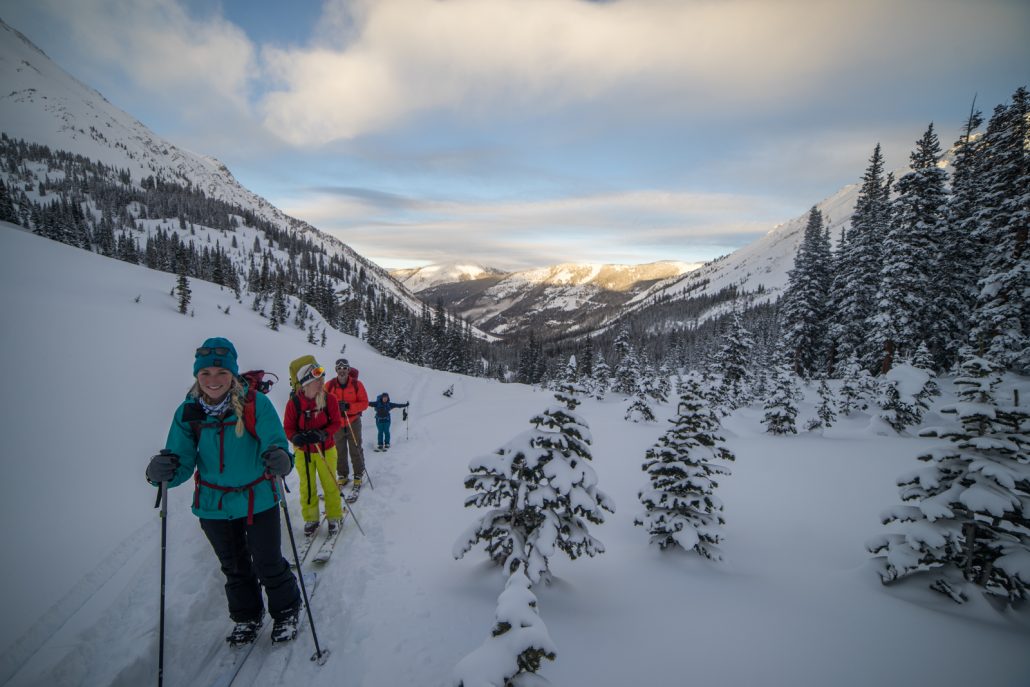 We rented our splitboards from Wilderness Sports in Dillon, CO on our way to Aspen. The rental included splitboards, skins, and poles. You must also rent avalanche safety gear. Our crew consisted of 8, 3 of which had taken their local avalanche safety course. This type of trip requires intermediate level skiers and knowledge of avalanche safety. Test your avalanche beacons the day before at a beacon park to gain familiarity with the equipment. Snow science is not something to ignore, always be safe!
You can check into a hut as early as 1pm. Try starting your trip earlier in the day, if possible, so you can enjoy a few hours of daylight after you arrive. Also keep in mind, the more people you have, the more time it takes to get things moving.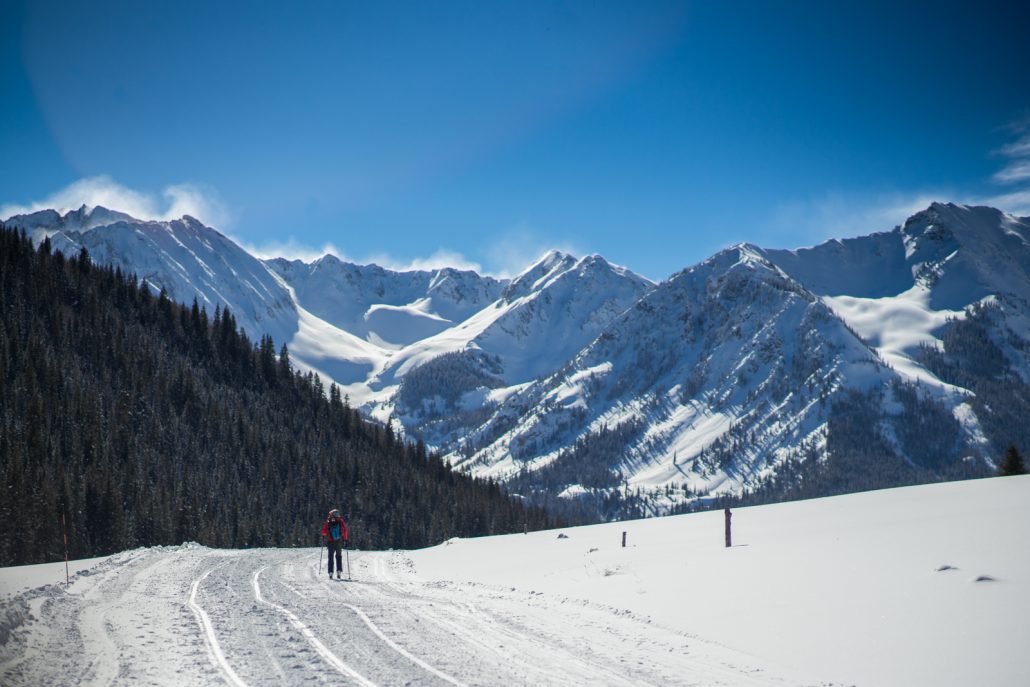 Once you hit Castle Creek trail from the parking lot you will follow a groomed road for about a mile before reaching any skin tracks. If you're lucky, there will have been travelers before you, and you can follow their snow tracks. For safety, stay in tracks others have made instead of veering off course. Snow can easily disguise holes, rivers, and other hazards.
As you skin, the impressive white peaks rising up on either side of you will be sure to drop your jaw. The views will temporarily distract you from all the physical effort required to skin, get ready to lose your breath as you adjust to the altitude. Make sure to bring snacks and plenty of water. The first 4 miles are mellow with a few uphills, each mile will take you about an hour.
The last mile of the trek is more challenging, but fear not, the hut will be worth it. As we came into view of our hut we collectively cheered and popped off our skis. Since we left later in the day, we arrived to the hut around 4pm and were quite tired. We quickly got a fire roaring in the wood burning stove with the supplied wood and were in t-shirts and sweats in no time. Our crew brought a simple pasta dish for all of us to share and enjoyed each other's company and conversation for the night. Be sure to step outside to enjoy the incredible star gazing once it's dark.
The next morning we quickly dressed and made an easy pancake breakfast with instant coffee before skinning about a quarter mile past the hut to the bottom of Pearl Mountain. You can skin up as far as you like, keeping avalanche safety in mind, and enjoy fresh powder runs back down. Skinning up the runs takes a lot of effort, but nothing beats fresh powder turns.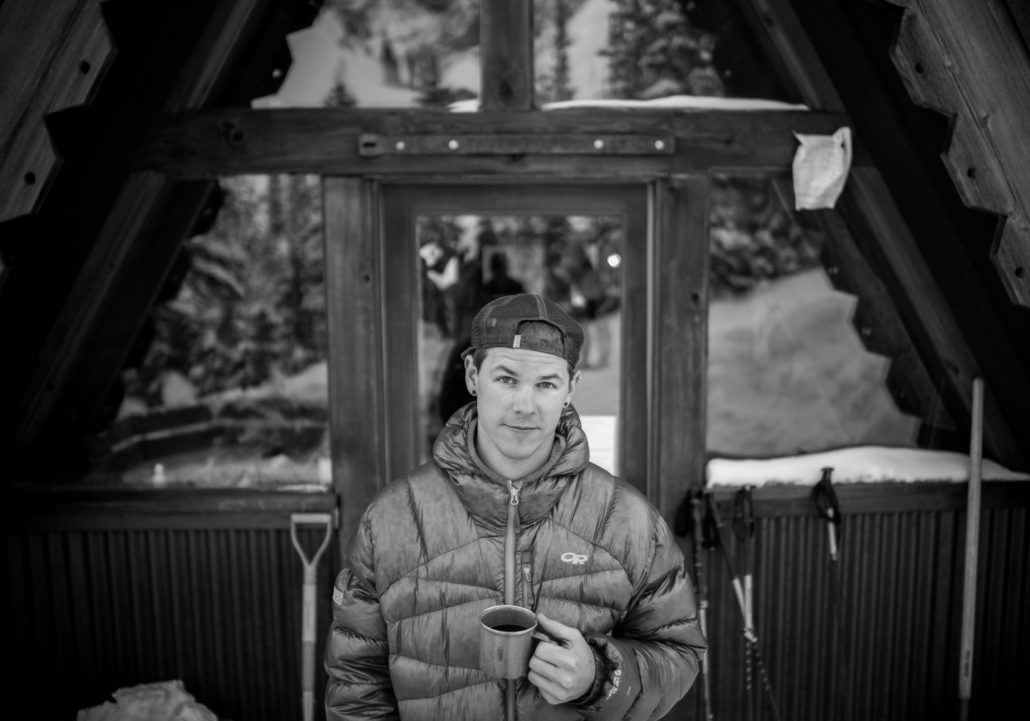 We recommend staying at the hut at least two nights, otherwise you will need to check out at 1pm, including the time it takes you to split new wood, clean the hut, and leave it in the condition you found it. So wake up early if you want more runs!
The route back is downhill about 75% of the way, but you will need to put on your skins for the last quarter of flat trekking. Believe us when we say you will work up an appetite. Be sure to head over to Aspen Brewing for a hot meal and cold beer to cheers your friends to a great winter adventure done right.